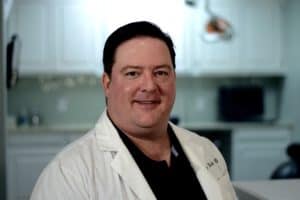 10 Sep

Wesley Black DDS | The Dental Studio of South Tulsa
Wesley Black DDS | The Dental Studio of South Tulsa |
(918) 745-0500
Wesley Black, DDS is proud to practice at The Dental Studio of South Tulsa. He was raised in east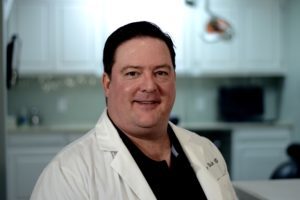 central Oklahoma, near Atwood, on a peanut farm. Wesley Black DDS attended Holdenville Public Schools and was an active student-athlete. He was also active in Future Farmers of America. After graduating high school, Dr. Black attended Oklahoma
State University. He graduated as a double major with a Bachelor's of Science degree in Biochemistry and Molecular Biology. From OSU, Wesley Black DDS attended the University of Oklahoma College of Dentistry. He graduated in 1999 with a Doctorate of Dental Surgery. Finally, he was privileged to study under Dawson and Kois while attending the Pankey Institute for Dental Implant Surgery.
Dr. Black began his dental practice in Denison, Texas.  Several years later in 2001, he returned to the great state of Oklahoma. He has been serving the South Tulsa area for over 17 years since opening his private dental practice in 2001. Dr. Black is married to the love of his life, Gina, and they have two beautiful daughters.
Wesley Black DDS Dentistry
Wesley Black DDS specializes in dentistry, the diagnosis, prevention, and treatment of diseases, and conditions of the oral cavity. His supporting team aids in providing oral health services. The dental team includes assistants, hygienists, technicians, and in some states, dental therapists.
Wesley Black DDS Responsibility
By nature of Wesley Black DDS general training, a licensed dentist can carry out most dental treatments such as restorative, orthodontics, prosthodontics, periodontal therapy, and oral surgery.  They can also perform examinations, take radiographs and diagnosis. Additionally, Wesley Black DDS is qualified to practice oral surgery procedures such as dental implant placement.
Wesley Black DDS has to take additional qualifications or training to carry out more complex procedures such as general anesthesia, oral and maxillofacial surgery, and implants. While many oral diseases are unique and self-limiting, poor conditions in the oral cavity can lead to poor general health and vice versa. Conditions in the oral cavity may be indicative of systemic diseases such as osteoporosis, diabetes, AIDS, different blood diseases and others.
Wesley Black DDS CEREC
CEREC technology is revolutionizing many aspects of dental care, but especially the area of dental restorations, or crowns. CEREC crowns are unique in three ways. They are the strongest restorations available, the most compatible with natural oral tissues, and can be completed in a single visit. CEREC is the latest and most advanced technology available for restoring damaged teeth. This patented machine sculpts each crown from a solid block of milled ceramic, making them the strongest available.
In addition to their strength and stability, Wesley Black DDS CEREC crowns are uniquely compatible with your natural tissue since they are completely metal free. This not only makes them the most natural crowns available but makes them beautiful in appearance as well.
Wesley Black DDS Bridges
A dental bridge is a fixed prosthetic device that fills a gap left by one or more missing teeth. This device is cemented to existing teeth or implants by Wesley Black DDS or prosthodontist. A gap between teeth caused by a damaged tooth is capable of causing many problems. Remaining teeth can shift, causing bite dysfunction. A dental bridge fills this gap, preventing such shift. Your dental bridge will also serve to strengthen adjoining teeth. Teeth support each other, and a missing tooth means missing support.
Wesley Black DDS & The Dental Studio of South Tulsa, are experts at restoring your smile through dental bridges. They also utilize CEREC technology for the construction of dental crowns. This revolutionary technology is significantly improving dental care.
For more information on Wesley Black DDS and his dental practice and services, contact The Dental Studio of South Tulsa here.