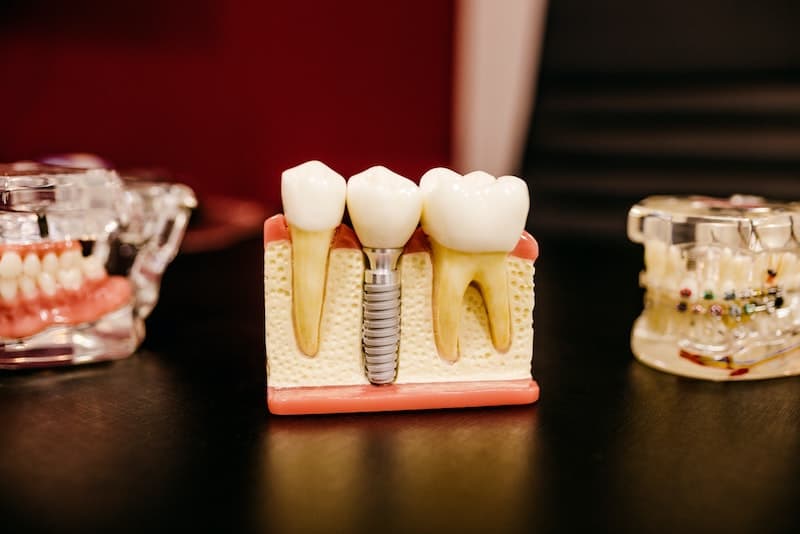 13 Aug

What Dental Implants Are Made Of: Everything You Should Know

If your dentist has recently recommended that you consider dental implants, you likely have unanswered questions about how this procedure actually works. Understanding how dental implants are made, the purpose that they serve, and any alternatives you may have will allow you to make a more informed decision regarding your upcoming dental procedure.

What are dental implants made of? The portion of the dental implant that is placed in your jawbone is made of titanium or titanium alloys. Titanium quickly forms a natural, strong bond with the jawbone, allowing you to have full function of the tooth. The visible portion of a dental implant is most often made using a porcelain material that closely mimics the look and function of natural teeth.

You can not reverse the dental implant procedure. Because of this, it is important to carefully consider the options you have when facing this type of restorative dentistry. In this post, we will cover everything you need to know about dental implants and the impact that they can have on your life.
Everything You Should Know About Dental Implants
Not only do dental implants require a lengthy dental procedure but they also require a considerable investment. Because of this, we believe that each of our patients should be fully informed as they make decisions regarding the future of their oral health.
What Are Dental Implants?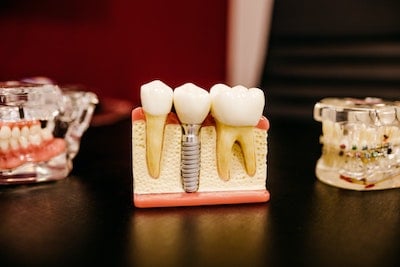 Dental implants are a common dental procedure used to replace a broken, damaged, or missing tooth. With this procedure, your dentist will carefully place a titanium post (also known as an abutment) directly into your jawbone. This portion of the implant will serve the same purpose as the roots of your existing teeth. Once we place the titanium post, the jawbone will begin to naturally bond with the implant. This process is known as osseointegration. 
After osseointegration is complete and we are fully satisfied with the way your implant has bonded with the jawbone, we will complete the process. We fashion a porcelain prosthetic tooth to attach to the top of the implant. This tooth mimics your natural teeth in size, shape, color, and function. In fact, implants today are nearly undetectable due to the latest advances in dental technology.
Common Materials Used to Make Dental Implants
While Tulsa dental implants have been made using a variety of materials over the years, the dental implants that we use today are made using titanium or titanium alloy. Our bones naturally bond with titanium as if it was bone, making this the most successful method of restorative dentistry. 
The visible portion of a dental implant is most commonly made using porcelain as this material provides the most natural match to your existing teeth. However, some dentists prefer ceramic or metal prosthetics. When choosing to pursue dental implants, we ensure that the materials we use are compatible with your existing bone structure and overall aesthetic of your smile.
Our goal is to provide you with dental implants that mimic both the function and the form of your natural teeth. 
What Purpose Does a Dental Implant Serve? 
Dental implants were first introduced as an excellent alternative to traditional dentures. For most patients, dental implants are recommended when one or several teeth are damaged, broken, or missing. As long as the health and structure of the jawbone do not show signs of damage, dental implants can be a great way to restore full functionality to the mouth.
Benefits of Dental Implants
Many patients are wary about the possibility of dental implants. In many cases, they see the dental procedure as purely cosmetic. However, this could not be further from the truth. When we recommended dental implants, there are almost always several reasons why they would benefit both your health and quality of life.
Improve Oral Health
First and foremost, dental implants improve your oral health. When one or several teeth are missing or damaged, the surrounding teeth are more susceptible to injury or infection. By replacing the missing or broken tooth with a dental implant, you are protecting the surrounding teeth, gums, and even bone structure. 
Maintain Face Shape & Structure
Our teeth are responsible for maintaining the shape and structure of our face. Once you begin to lose teeth, your face can quickly become sunken or misshapen. This not only affects the condition of the surrounding teeth but also greatly affects your self-esteem. 
By using dental implants, we can easily restore your smile to its original shape, maintaining the structural integrity of your face.
Improve Physical Health
When you have teeth that are missing or damaged, your physical health could be affected. Missing teeth make it nearly impossible to eat and drink as you normally would. Dental implants allow you to get the nutrients you need. 
Additionally, tooth decay or gum disease can have a negative impact on overall health. By choosing to pursue dental implants, you minimize the risk of additional health problems caused by your missing or damaged tooth.
Boost Confidence
It is important that you feel confident in yourself and your appearance! Dental implants can be a huge boost to your confidence and self-esteem. In addition to the many health benefits of dental implants, we believe that we can improve the quality of our patient's lives through this restorative dental procedure.
The Longevity of Dental Implants
Although you can not reverse dental implants, they are not a permanent solution to oral health concerns. When cared for properly, dental implants last an average of 10 to 15 years. For the majority of our Tulsa patients, the investment is well worth it for such a long-lasting solution to missing or damaged teeth.
Proper oral healthcare habits are essential to the longevity of your dental implants. Dental implants often maintain their original color and condition. However, they can be susceptible to damage or staining just like other teeth. Unlike natural teeth, implants can not be whitened. Because of this, you must be diligent in regard to your oral hygiene routine. Bi-annual dental exams and cleanings are an important part of caring for your dental implants.
Alternatives to Dental Implants
If you are missing a tooth or have suffered severe damage to your teeth, you are likely looking into your options. While dental implants are the most common solution for these problems, dentures are another alternative form of treatment. 
Dentures vs. Dental Implants
While dentures have been around for quite some time, dental implants are becoming much more popular. Dentures simply do not provide the same level of functionality or strength that is provided by implants.
Dental implants are also a much more carefree alternative, without additional steps required for care. For this reason, we recommend dental implants to the majority of our patients facing a restorative dentistry procedure.
Finding a Dental Implant Specialist in Tulsa
At The Dental Studio of South Tulsa, we take great pride in our high-quality dental implant procedure. Our team has extensive training and experience in dental implants, ensuring that your procedure exceeds your expectations. The dental implant procedure may be intimidating. However, we take every step to minimize your appointment time and reduce any discomfort that you may experience.
With the ever-changing advancements in dental technology, dental implants can provide you with a long-lasting solution to tooth damage, loss, or decay. 
Through dental implants, we can restore your smile, provide you with optimal oral health, and boost your confidence. No matter the situation that has caused you to suffer tooth loss or damage, you deserve to feel confident in your smile.
Are you ready to experience the incredible functionality and appearance of dental implants? Contact our Tulsa dental studio today to schedule a dental implant consultation! We look forward to hearing from you.